Welcome to Forsyth
Atlanta traffic brought to rural Georgia
( 30 minutes to travel 2 miles )
Traffic Insanity in Forsyth!
Less time on the road means more time with your family
Overview

We've learned a lot since starting this effort. It gets complicated fast, but basically the traffic and other problems we face in our county comes from one single source - development. Our local Board of Commissioners (BOC) determines anything that is allowed to be built in Forsyth. So it's incumbant upon this body of elected citizens to balance the rights of the few large land holders and developers against the rights of thousands of existing homeowners to protect the quality of life they bought into here in Forsyth.
We're out of balance right now with the majority of Commissioners voting for high-density development, which has caused the mess we're in with traffic and 40% of our schools being overcrowded. Problem is, citizens in the Southern part of Forsyth are disenfranchised. We can't vote for or against any other commissioners than our own, yet collectively they can vote for or against development in our area (including out voting our own Commissioner who is the only representation we can elect). Anyone think that is fair?
Many of our current leaders got us into this mess, so we're supporting the candidates below to help lead us out of it (vote on May 20th):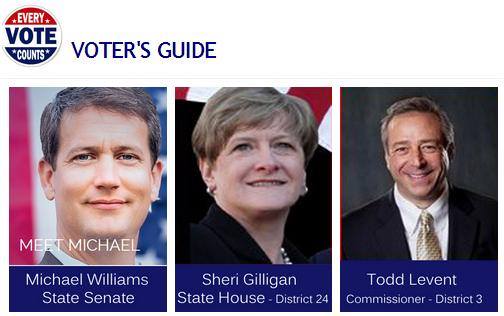 The Facts
Daily bumper to bumper back ups on County and State roads in Forsyth County.
Thousands of citizens each spending 40-70 minutes extra a day in traffic.
No money for road improvements due to misplaced priority of building a jail and courthouse in Downtown Cumming before improving any roads.
State roads long overdue for upgrades and widening, but our state leaders in the area do nothing about this (Hwy. 9, Post Rd. 369, etc.).
What little money we do have is being wasted on roads that don't have traffic (witness the Castleberry road widening sham below).

The Future
Our problems will be getting much worse before they get better
Over 20,000 undeveloped lots currently approved for development in Forsyth County.
County on schedule to approve another 5,000 new lots this year.
In 2013 95% of lots were approved to be less than 1/4 acre.
The County Solution: New Homes Now, New Roads Later.
Almost all rezoning applications are for Res3, Res4, or higher (high-density), and there is no monthly limit to control the velocity of zonings.
Two of the 5 Commissioners have direct ties to the real estate industry, one even is asking to zone his own land to add more than 500 homes on 1/8th acre lots.
The current group of Commissioners has not denied a single zoning application.
County is considering $230,000,000 Transportation Bond, added debt of about $4,000 per household.
How long can we keep going like this?
Our Solution: Fix high priority roads now, plan for Schools, Stop/Limit Rezoning in Southern part of County
Limit zonings to one per County District per month. Currently there is no limit and the developer free for all is ruling the day. Read more about this on the RootsInAlpharetta blog
Return RES3 minimum lot size to 14,500 square feet. This was the size when the future land use map was developed.
Implement Developer Impact Fees for Schools at the state level, and then levy them locally. These fees should offset the cost of building new facilities to accommodate the new students in new neighborhoods.
Host a "Summit" with custom home builders to determine what other benefits can be put in place to attract them to Forsyth County.
UPDATE: We are now working with Forsyth HOA, Forsyth Citizens for Responsible Growth, and Smart Growth Forsyth to address these issues. The attendees of this "Summit" represent about 10,000 homeowners in all 5 districts of the County. We agreed on 6 ideas for principled growth and generated a letter to the County. Those ideas turned into a letter presented to the BOC this week. Here is a copy of that letter.
Growth is good, but requires balance through proper planning and management!
We are not anti-growth. Growth is inevitable and good, but only if properly planned and managed. We don't want all low-end and we don't want all high end homes. Finding a balance is healthy and should be a common sense goal, especially given how much in demand our county is. The county does NOT seem to be concerned by the fact nearly all rezoning applications in our area are for Res3 developments and higher. It's been this way for years and remains the status quo. This has had a dramatic impact on roads, schools, water, sewer and our overall quality of life and it's only getting worse.
Let's not let our Board of Commissioners add to the mistakes of previous ones!
They must have all of our support and feedback to make the right decisions.
How You Can Help
This situation will not get fixed until we get involved. The Forsyth Board of Commissioners must hear from a large number of citizens in order to curb this irresponsible urban development. Take two steps today and raise your voice.
Step 1: Be sure you VOTE in the May 20 election. See the Voter Guide here.
Step 1: Send an email below telling the county officials your feelings on high density zoning.
Step 2: Join our email list to keep up to date on this issue. An informed, active citizenry is a powerful one.
Step 3: Share this page with your friends and neighbors and urge them to learn about the issues and join in the fight to keep Forsyth great! Using your neighborhood website or distribution list to share this website is a great way to spread the word within your subdivision.
Please write a personal message briefly expressing your concerns (prefabricted messages are more likely to be ignored/deleted). This goes directly to all Commissioners and other associated county officials. You will receive a copy of this email. (* - required fields)
If you would prefer to send your message to the Board of Commissioners via your own eMail client, please click here.